The COVID-19 Vaccine: The Cost of the Cure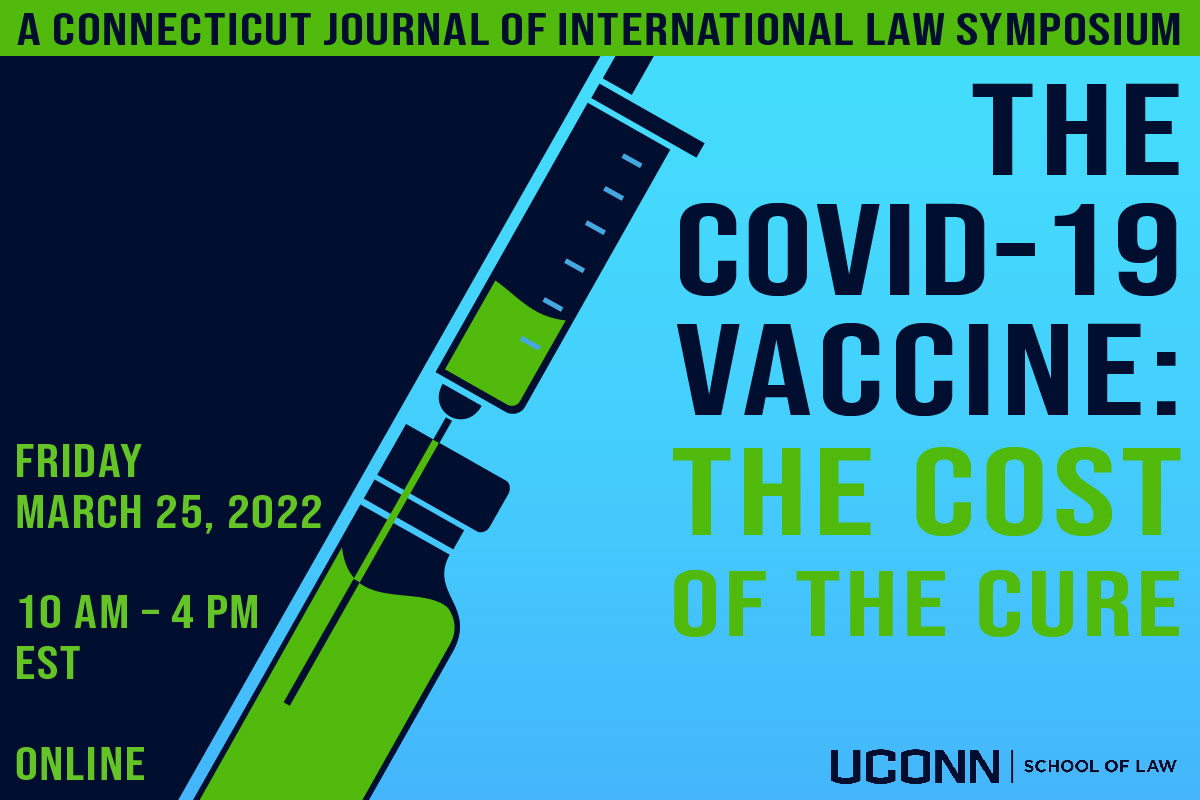 Register now!
Please join the Connecticut Journal of International Law as we explore The COVID-19 Vaccine: Costs for the Cure.
About This Event
This symposium is dedicated to Professor Richard Parker. The day will begin at 9 a.m.
with a special remembrance event in honor of Professor Parker. The Symposium will
formally begin at 10 a.m. with our first panel, "Lessons in Global Crises: COVID-19 and
Climate Change," featuring the scholarship of Professor Richard Parker.
The symposium will continue with an in-depth analysis of the global distribution of the
COVID-19 vaccine. Our speakers will address lingering questions as to how we can
continue to combat the virus globally while ensuring the equitable distribution of
resources and the protection of individual human rights. Inequity in vaccine distribution
has magnified disparities in access to healthcare that existed long before the pandemic
began. In countries with widespread access to the vaccine, individual hostility towards
vaccine mandates and other restrictive government action has forced national leaders
to contemplate the delicate balance between public welfare and individual human rights.
Join CJIL in unraveling and exploring these issues with leading experts in the fields of
climate crisis, patent law, human rights and health law.
RSVP by March 24, 2022
Pricing
This event is free for students and the general public.
Schedule
Friday, March 25, 2021
9:00 a.m. Remembering Richard Parker
10:00 a.m. Opening Remarks by Dean Eboni Nelson
10:05 a.m. Panel One: Lessons in Global Crises: COVID-19 and Climate Change
A tribute to the scholarship of Richard Parker. This panel will be
moderated by Professor Joseph MacDougald, the executive
director of the Center for Energy and Environmental Law, and will
focus on the relationship between climate change and global health
crises, like COVID-19. Panelists include Professor Sara Bronin,
Professor Cary Coglianese, and Professor Dirk Hanschel.
10:55 a.m. Intermission
11:00 a.m. Keynote Address by Professor Audrey Chapman
11:40 a.m. Intermission
11:45 a.m. Panel Two: Human Rights
This panel will be moderated by Associate Dean Richard Wilson,
the founding director of the Human Rights Institute at UConn, and
will discuss the human rights implications of the measures
employed by governments locally, nationally and internationally to
combat the spread of COVID-19. Panelists include Attorney Mark
Meuser, Attorney Carmel Shachar, and Professor Lisa Forman.
12:45 a.m. Intermission
1:15 p.m. Panel Three: Vaccine Mandates
This panel will be moderated by Professor John Cogan, Associate
Professor of Law and Roger S. Baldwin Scholar, and will discuss
both the effects of vaccine mandates on public health and the
legality of these mandates under federal and state law. Panelists
include Attorney Tammy McCutchen, Professor Wendy Mariner,
and Patrycja Dabrowska-Klosińska.
2:15 p.m. Intermission
2:20 p.m. Panel Four: Patent Laws and the COVID-19 Vaccine
This panel will be moderated by Professor Diane Covello, Co-
Director of the Intellectual Property and Entrepreneurship Law
Clinic, and will explore the ongoing debate surrounding patent laws
and the COVID-19 Vaccine. Panelists include Professor Mario
Biagioli, Professor Guido Cozzi, and James Love.
3:20 p.m. Closing Remarks
Please direct any questions to abigail.bicknell@uconn.edu and to zachary.sipala@uconn.edu.